Business Strategy consists of three main components :
Vision – a statement as to what the organization wishes to be or become.
Values – the principles guiding both managers and employees.
Statement mission – a description of the nature/objective of the present organization and business.
Only few companies use strategic planning although it drives them to a far greater success than many other companies that simply move on from day to day.
Strategic planning comprises of three parts:
Company – analysis of activity.
Competition – relative advantage / disadvantage.
Market – clientele and future potential.
The analysis of these three components is followed by:
Devising a strategic alternative
Selecting the preferred strategy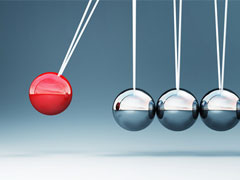 The first, longest, most important part in a strategic planning process is data analysis. Strategic data analysis will lead to findings which may affect the preferred alternative of the company's strategy.
This stage entails the examination of the company's financial statements, sales data, satisfaction surveys and any other relevant quantitative and qualitative details. The objective of this stage is to identify the company's strengths and weaknesses; to understand how it tackles various issues; and to identify assets and capabilities on which the company may build its future strategy.
Clients' analysis is also part of the initial analysis phase. Clients' analysis identifies the needs and preferences of the company's clients and other potential clients. The analysis examines the company's awareness of its competitors and includes market surveys to identify overt and latent needs of various clients and focus groups. Being part of the strategic planning process, this clients' analysis often leads to significant insights since a correct identification of needs and provision of adequate solutions is the key for planning a successful strategy.
Following are the main stages in a strategic planning process:
Benchmark analysis and analysis of business models of similar companies
Prioritizing alternatives
Company's internal analysis
Analysis of company's clients
Analysis of competitors
Based on your analysis of the company, market and competition, several alternatives should emerge. If you identify only one alternative, you may be drawn into a specific concept that you came up with during the analysis. Try to add at least 2-3 strategic alternatives for action. Identify the advantages and disadvantages of each alternative and try to use financial terms to quantify the revenues and profits that each strategic alternative is expected to yield.
Estimate the risk embodied in each alternative and create a clear picture which will allow you to prioritize them. Subsequently, together with the smartest, most capable people in your organization, try to select the most feasible alternative. The various alternatives may seem to you at this point feasible to a lesser or greater degree. A good, safe alternative in insecurity conditions and a risky alternative may be necessary at times of a drastic change in the market or competition conditions.