Who We Are
Founded in 1981 Zeev Dori Business Consultation provides business and strategic consultation.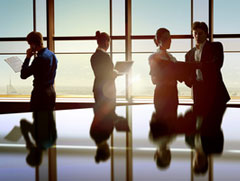 Since it was founded, the company has assisted in guiding companies in the business world and instilling end-to-end principles allowing to cope with the internal and external systems of its clients.
Zeev Dori Business Consultation helps in selecting integrated moves of business strategy while implementing innovative, unique methods and using state-of-the-art technologies that allow for setting key performance indicators (K.P.I.) for the purpose of progress and follow-up in the close and distanced environment alike.
Zeev Dori Business Consultation is run by Zeev Dori, M.BA in Business Administration from Tel Aviv University, who has more than 40 years of consultancy experience.
Since its foundation, Zeev Dori Business Consultation had led more than 1500 business and strategic consultancy projects for numerous clients, including leading bodies in Israel, such as:
Governmental institutions
High-profile corporate clients
Small to medium-size businesses
The "Business Tutoring" project established by Zeev Dori Business Consultation as a strategic project won the Kaplan Award.
Zeev Dori Business Consultationhas extensive experience in the industry, commerce and hi-tech sectors, both in the setting-up and test-run and assimilation stages.
Our abilities
Business management

Assistance with developing a comprehensive, integrative management concept and providing tools for understanding the internal and external factors affecting the organization and its environment.

Technological progress

We believe that technology does not only provide us with means, it allows us to seek new goals.

Strategic plans

We believe that strategic management is a process that should be applied continuously and not as a one-off management's project.

End-to-end

Studying the company and its products and services and analyzing its strengths and weaknesses in order to facilitate a decision making process which is in keeping with the company and its stakeholders and managers.
Our History
Founded in 1981 Zeev Dori Business Consultation started as a center for "change" for companies and businesses operating in Israel. In 1991 the company started leading strategic processes for companies, institutions and banks in the Israeli market.
Milestones
1990 – Zeev Dori Business Consultation started leading a strategic plan for the "Israeli Military Industries" including all its branches in Israel and across the world.
1991 – Zeev Dori Business Consultation established the "Tutoring Project" for the Ministry of Trade and Industry as a strategic project aiming at improving business management in Israel. After winning the Kaplan Award for the Tutoring Project, MATI (Small Business Development) centers and business incubators have been established. Zeev Dori Business Consultation guided the launching of these projects while also assisting the Jewish Agency in founding business help funds – "The Negev Foundation" and "The Galilee Foundation" allowing new entrepreneurs to found businesses in various regions of Israel.
1996 – Our company started the strategic rehabilitation process of Kopel changing the company's name to New Kopel and initiating a rehabilitation and growth process coupled with fund raising and facilitating the company's growth.
2000 – Our company participated in the setting up and positioning process of Partner "Orange" which included changing the business structure of the company, establishing a technology department and implementing cross-organization processes in Partner, all closely supervised by our company.
2002 – "Yes" required an upgrading of its computerization and customer service systems. To that end indicators and targets were set for the company and it embarked on a continuous improvement process.
2003 – Zeev Dori Business Consultation started a 2-year business process with Bezeq International during which all company's systems have been reviewed and information systems replaced, which resulted in its becoming one of the leading Internet companies in Israel.
2008 – Egged decided to examine its computerization systems and business processes. To that end our company reviewed all the systems and presented its findings to Egged management for the purpose of instigating a change.
2010 – Due diligence for acquisition of HOT for Lehman-Brothers.
2012 – Tami 4 merge into Strauss Group
2014 – the company began to focus on small and medium businesses.
Our  Team